Chamberlain Garage Door Openers and Accessories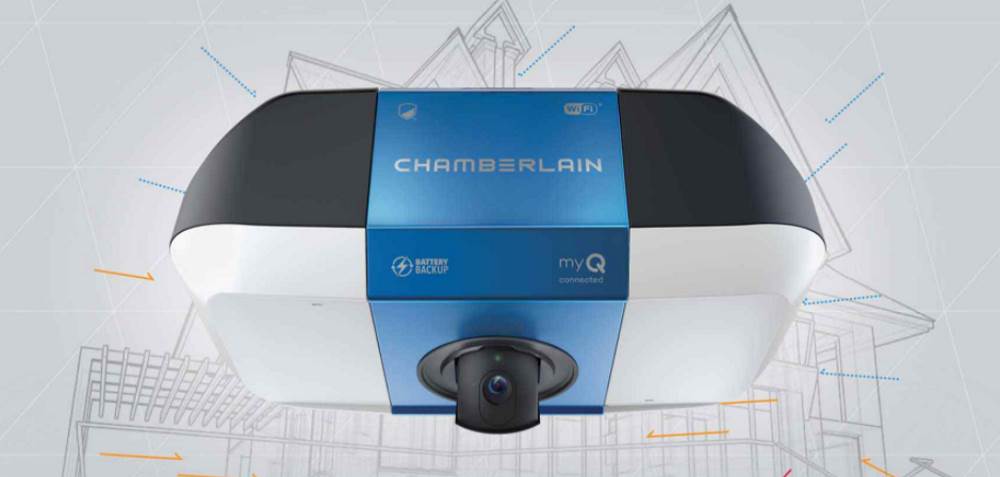 Most famous garage door opener brand in the USA is Chamberlain. We can't say it is the best, but sure is the most famous. This brand stays on top in the Automatic Garage Door Opener systems, and has many intelligent solutions for its models.
Their motto is: BUILT FOR YOUR HOME. Chamberlain garage door openers are made to bring their customers more convenience and security. No matter how people are using their garage, Chamberlain openers make systems to fit everybody's needs.
Ultra quiet mechanism to roll up and down, with a strong electric motor without any unnecessary vibrations.
Durable, reliable and powerful chain mechanisms fit every home's needs for long and consistent use.
New models are equipped with smart technologies. With smart home technology, these models provide full advanced access and safety features.
Chamberlain Garage Door Opener systems are equipped with SECURE VIEW™ VIDEO GARAGE DOOR OPENERS. This means that customers can communicate in 2-ways Audio/Video, using a 1080p HD camera installed in their garage.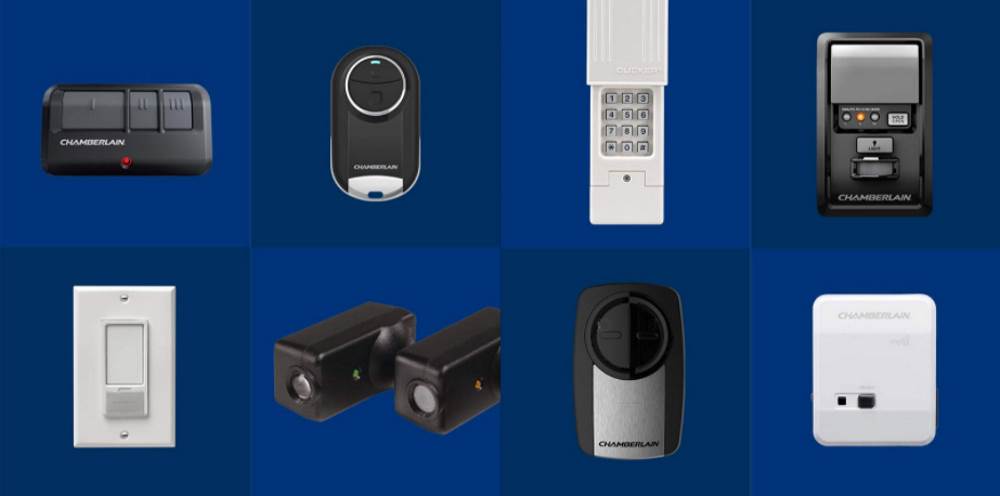 Easy but so smart solution is LED CORNER TO CORNER LIGHTING™. Technology for comfort while using the garage. This LED system provides unrivaled garage illumination, helping that way for any garage activity.
Smart systems bring these garage door openers to the future. Make your home even more secure, smart and comfortable. The RJO70 model is a revolutionary new wall mount garage opener. This model mounts to the wall on either side of the garage door, in which way you can free ceiling space for extra storage, light fixtures, ceiling fans and more.
Don't worry about electricity loss. Chamberlain is offering special battery backup for their systems. You can open or close the garage door when power's out, just by using an intelligent battery backup solution. Garage door openers equipped with Battery Backup provide you and your whole family peace of mind.
Chamberlain Garage Door Openers are designed for easy installation, with an installation manual and video tutorial. Keep in mind that the installation process should be done by a technician, to keep your home safe and secure.
Remotes & Accessories
No matter which model you have, or intend to buy, Chamberlain provides accessories to help your daily life activities. Accessories can improve your day-to-day life and make your business productivity even better. Don't waste time worrying, and keep focus on your business instead.
myQ Smart Garage Hub provides real-time alerts, daily schedules, and Smartphone control for most garage door opener models.
Rear view mirror with ARQ has 10+ year battery life, superior signal range, and improved visibility.
Wireless motion alert CWA2000 module improves safety and security.
MyQLED1 smart LED light module for smart light control, super bright light in your garage and for daily schedules.
Belt Drive Rail Extension KIT for 10'-high garage doors.
CWPIR wireless motion alert sensor to receive alerts, schedule to close, and sync with smart devices.
MYQ-G0303-SP Home Bridge adds smart features and control using your own smartphone device. Even if you don't have WiFi built in, you can use smart functions using this module. It is easy to install and use. MYQ Home Bridge can inform users and provide real-time alerts on garage activities.
TM110 ARQ Universal Remote Control can operate on multiple garage doors, entry gates, and myQ enabled lights with 3 button design. It has 10+ Year battery life, and it can work with all major brands in this industry.
Battery backup system to replace Chamberlain battery when necessary.
myQ Interior Light Switch can operate via smartphone control, or garage remote device. Turn lights on/off with myQ Android or iOS App. Users can set schedules to increase security and safety, or synchronize lights with garage door openings.
Take a look at these universal remote devices for automatic garage door systems.