Vkworld T2 Plus review: Cheap flip phone with Android and touch screen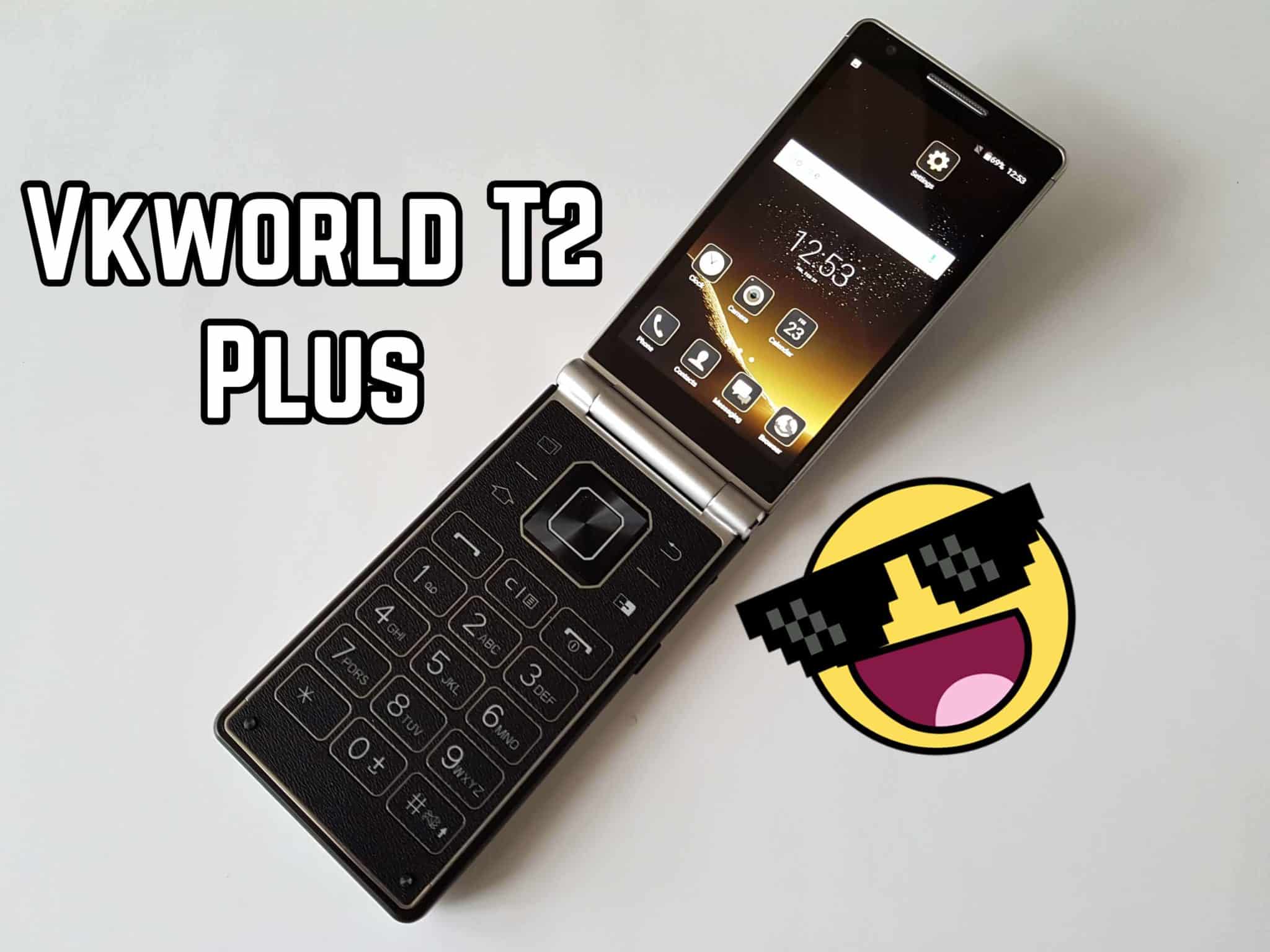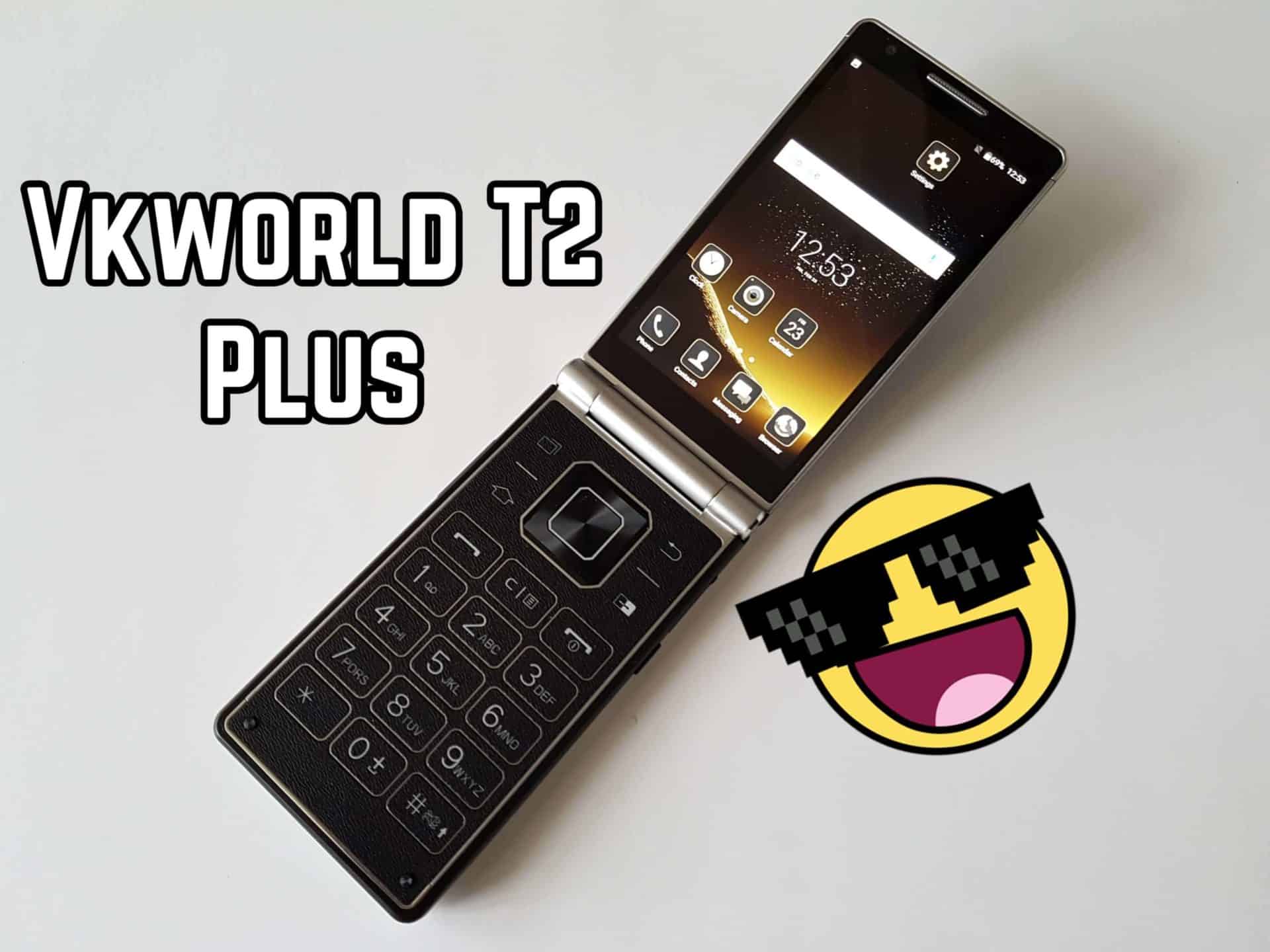 What is the Vkworld T2 Plus?
Flip smartphones are not common these days which is actually quite normal because mostly phones have a big touch screens, and people got used to have big devices. Nevertheless still today flip phones are here, and recently Samsung introduced SM-G9298 device. In meanwhile another smartphone company from China has introduced the Vkworld T2 Plus which is much cheaper, and definitely more interesting.
Which proves that there is good interest for flip smartphones. So we are very happy to have opportunity to introduce these device in our review. These filp smartphone has really cool design, good build in hardware, and of course affordable price.
Vkworld T2 Plus – detailed specifications
Display: 4.2 inch big with 1280 x 768 pixels, Dual screen
CPU: MediaTek MT6737
System: Android 7.0
Memory: 3GB RAM + 32GB ROM + up to 64GB with memory card
Cameras: front 5MP, rear 13MP
Battery: 2000mAh
Build quality & display
So it has been a long time when we have tested some flip phone. So when you for the first time hold the phone in your hands you will noticed that it is fatter than usual smartphone. But it is quite normal because it has two screens. So when you think about the screen then we can tell you that it has two screens.
Both screens are same size which is 4.2 inch, and they are IPS with resolution 1280 x 768 pixels. According to the company these are the same screens like on Blackberry. Where outer screen is touchscreen display while inside screen is not touchscreen display.
Therefore both screens provides good visibility from every angle, and at the same time HD resolution is good choice for 4.2 inch screen. Because it provides high sharpness including excellent color display. Overall we believe that you will be satisfied with the T2 Plus screen.
But besides that this smartphone is amazing because it provides premium feeling, and at the same time it is made from good quality materials. Actually it is unique smartphone because it has some elements which other smart phones does not have.
Therefore when we think about the build quality then we can say that the backside is made from genuine leather which is actually really cool. It looks really nice, and at the same time it feels nice under the hand. While other parts of the phone are made from plastic and metal.
Also like any other flip smartphone it has physical keyboard, which is not surprising. Actually some people today likes more physical keyboards than touchscreen. So in this way you have opportunity to use physical keyboard for text messaging, calling, or something else. But still if you want you can use touchscreen for web surfing, playing games or something else. Keys are enough big, and it is very easy to use the phone.
In other words you have possibility to choose what is more convenient for you. Therefore we are very pleasantly surprised with this flip phone because it looks really nice, and at the same time it provides good build quality.
Also don't forget that the you can only turn on the phone with physical keyboard. Although it has power on off button on the side which you can use when the phone is already turned on, and you can turn off the phone with that button.
Performance and benchmark testing
Vkworld T2 Plus is medium strong smartphone which is based on MediaTek MT6737 chipset. Besides that it has 3GB of RAM including 32GB ROM which you can additionally upgrade with memory card up to 64GB. So you can see it has actually good combination of built-in hardware, of course it is not flagship hardware but for these price range you can't expect to have it. But still you will able to do anything with this flip phone.
Because these days 3GB of RAM is enough for every purpose including playing games. During testing we have played several different games, but also we have watched movies, and we can confirm that everything works without lags. As we said earlier it has 32GB ROM, and if this is not enough for you you can still upgrade with memory card up to 64GB.
Overall for these price range group built-in hardware combination is good. Also don't forget you can see additional hardware information below like benchmark scores.
Benchmarks test results
Playing games
Youtube
Camera quality
On these fields it has 13 megapixel rear camera while the front facing camera is 5 megapixel. It is unknown who produce these camera sensor. But nevertheless we must admit that photo quality is actually very good for this price range group. Because many other smartphones with similar price has lower photo quality. Photos provides enough sharpness with realistic colors. Also you can see photo samples made by T2 Plus below.
Camera sample
Connectivity
2G: GSM B2/3/5/8(850/900/1800/1900MHz)
3G: WCDMA B1/8(900/2100MHz)
4G: LTE  FDD  B1/3/7/8/20(800/900/1800/2100/2600MHz)
GPS test
Battery life
About battery it has 2000mAh removable battery which is a decent for these kind of device. It will provide one day with average use. And you will receive 5V 1A charger, so in other words you will not receive quick charge charger. But in reality you don't need to have because it does not take long to charge 2000mAh battery.
Price Info
If you're curious about price then we can tell you that at this moment the price is $259.99. Comparing with Samsung SM-G9298 it is several times cheaper. So we believe this is a fair price for these kind of flip smartphone.
Gearbest online shop
Conclusion
So if you are looking for some unique smartphone like flip phone, then for sure you need to consider the Vkworld T2 Plus. Because it provides beautiful design with high quality materials. And at the same time it has medium strong built-in hardware, but what is most important about the price we can for sure say that it is affordable.